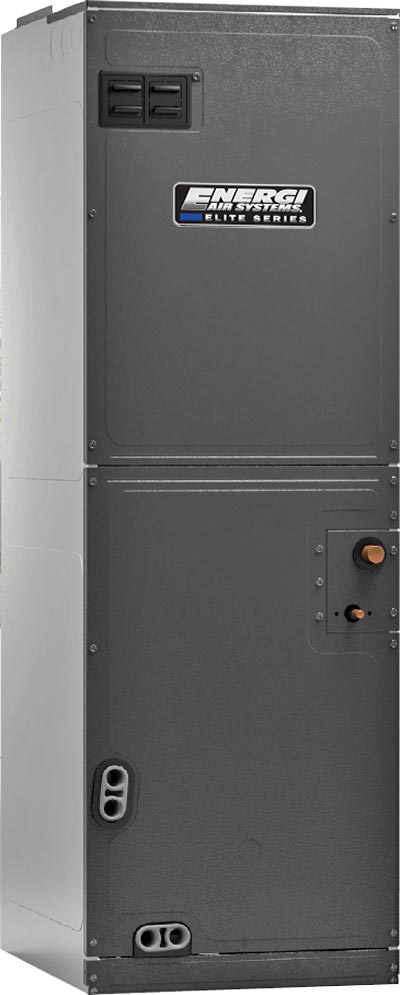 Complete warranty details available from your local dealer. To receive the 10-Year Parts Limited Warranty, online registration must be completed within 60 days of installation. Online registration is not required in California and Quebec.
Multi-Position, Variable-Speed
ECM-Based, ComfortNet™ Communication System Compatible
Inverter-Tuned
2 to 5 Tons
Outstanding Warranty Protection
All functional parts are covered by a 10-Year Parts Limited Warranty. For a full description of the product warranty, please see your local Energi Air Elite dealer. The AVPTC 's blower design includes a variable-speed direct current motor, which helps eliminate the cold blast of air upon heating start-up often associated with single-speed units. This air handler is ideal for either new or retrofit installations.
Additional Information
Before purchasing this appliance, read important information about its estimated annual energy consumption, yearly operating cost, or energy efficiency rating that is available from your retailer.
Standard Features
Internal factory-installed, inverter tuned thermal expansion valve for cooling and heat pump applications
Variable-speed ECM blower motor
ComfortNet™ Communicating System compatible
Auto configuration of the airflow and tonnage in communicating mode
Provides constant CFM over a wide range of static pressure conditions independent of duct system
CFM indicator
Fault recall of six most recent faults
Provides adjustable low CFM for efficient fan-only operation
Improved humidity control and comfort
Built-in compatibility with multi-stage heat pump and cooling applications
All-aluminum evaporator coil
AHRI certified; ETL Listed
Rigid SmartFrame™ cabinet